New York State Senator Thomas Duane, the state's first openly gay state senator and a tireless advocate for LGBT rights, is set to announce his retirement Monday, the NYT reports: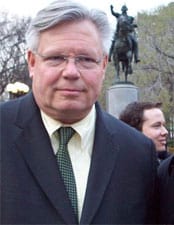 No, it is not his health. No, he does not have another job lined up. And no, Mr. Duane said cheerfully in an interview, he has not done anything illegal or embarrassing that is about to make news.
Instead, Mr. Duane, 57, said that he had simply tired of ricocheting between the city and Albany, as he has for 14 years — a number he repeated at least a dozen times — and that he was eager to try something new.
"It's not that Albany isn't a lovely place, but it's not home," he said. "I always knew that I was going to have another chapter in my life, and it's time for me to start that new chapter."
Mr. Duane, who was a pivotal figure during the recent battle over same-sex marriage, said that he had only begun to think seriously about retiring a few weeks ago, around the time that he and his longtime partner, Louis Webre, attended the wedding of Christine C. Quinn, the City Council speaker and his former chief of staff, and Kim M. Catullo.
Duane says he has no plans to run for office again.
Who could replace him?
The shortlist could include State Assembly members Deborah J. Glick and Brian Kavanaugh. Other possibilities are Brad Hoylman and Corey Johnson, the chairmen of Community Boards 2 and 4.