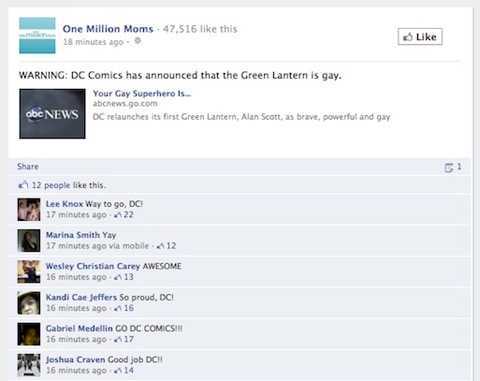 Cowardly American Family Association subgroup One Million Moms is looking more toothless by the day.
The New Civil Rights Movement reports that a Facebook warning the group issued today about DC Comics Green Lantern coming out of the closet was removed after at least 83 pro-gay comments flooded the page.
Check out the 4-page preview of Green Lantern's coming out issue HERE.
GLAAD tells TMZ: "The idea that a comic book character will make young people gay is as outlandish as saying it will give them a green power ring and the ability to fly. Even more outlandish is the idea that there are 'one million moms' who believe this hate group's anti-gay nonsense. From Christian churches to sports fields, to now even fictional comic book worlds, our culture overwhelmingly supports gay and lesbian Americans and that's what anti-gay groups like this are working against."