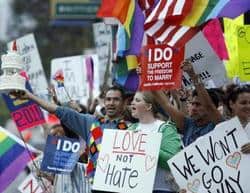 House Minority Leader Nancy Pelosi and 131 other House Democrats are throwing themselves into Karen Golinski's discrimination lawsuit against the federal government.
The Washington Blade reports that the lawmakers have filed a friend-of-the-court brief arguing that the Defense of Marriage Act violates Golinkski's right to partner benefits.
Chris Johnson offers more details:
The 30-page brief makes the case against Section 3 of DOMA, which prohibits federal recognition of same-sex marriage, in several ways, emphasizing that BLAG doesn't speak for the entirety of the U.S. House. House Democrats have pledged to file a brief in each case where BLAG acts to defend DOMA.

First, the lawmakers argue DOMA warrants heightened scrutiny because Congress has a history of targeting gay and lesbian Americans with discriminatory laws — a position that is held by the Obama administration.

House Democrats then argue that DOMA is unconstitutional because Congress hastily passed it in 1996 for political reasons and because the law undercuts Congress' interest in protecting families and respecting state sovereignty.
This is the second such brief Pelosi and other Democrats have submitted: they also put their weight behind the Gill v. U.S. Office of Personnel Management and Commonwealth of Massachusetts v. U.S. Department of Health & Human Services cases that have been merged into one lawsuit.
In addition to potentially impacting these cases, Pelosi and company's legal maneuver help contrast them against Boehner and other House Republicans who cling so ferociously to a 90s-era law.