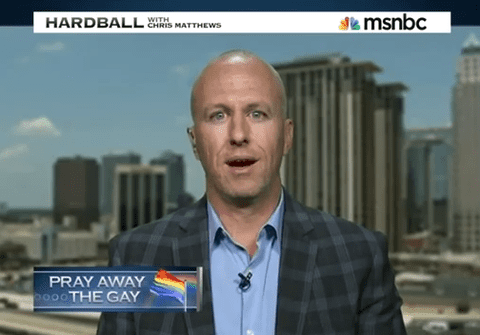 Exodus International leader Alan Chambers appeared on MSNBC's Hardball last night to discuss his organization's ballyhooed decision to disavow reparative therapy, the so-called "gay cure."
Explaining again that he still has same-sex desires, Chambers tells guest host Michael Smerconish that the concept of "praying away the gay has been a lazy stereotype. That's not what I did."
He goes on:
As far as reparative therapy… We endorsed that and had people within our movement who did therapy, but so much of the focus is changing there where they're talking about 100% cures and using that word specifically with me in private conversations and even introducing things like heterosexual pornography to help instigate attraction. I don't find that healthy at all.
Chambers was also asked whether he's contrite for the damage Exodus, he and other "ex-gay" activists have caused, and whether he's ready to apologize. His reply: "If someone hears my message — that those feelings are going to go away and their lives are going to be anything like my life, I am sorry for that. That has never been my intention."
Watch it all, AFTER THE JUMP.