NYC City Council candidate Corey Johnson's campaign coffers are flowing with record-breaking fundraising totals in advance of a September 2013 primary, the NYT reports: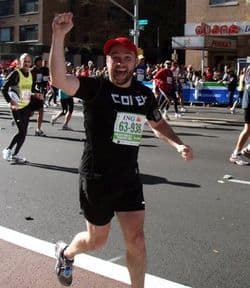 Mr. Johnson's estimated total, $166,000 — which does not include the $92,500 in matching money he expects to get under the city's campaign finance system — represents one of the earliest, and strongest, fund-raising starts to any Council campaign.
The closest any NYC Council candidates have come to Johnson's amounts are a current candidate on the Upper West Side, Ken Biberaj, who has raised $130,000, and John C. Liu, now the comptroller, who raised $100,000 in 2000, according to the paper.
Johnson is seeking outgoing Speaker Christine Quinn's seat:
In one of the most closely watched races for City Council — the Chelsea seat now held by Ms. Quinn — Mr. Johnson has seized the upper hand, financially, over two other likely candidates. He also has some residual name recognition; a decade ago, when he was the co-captain of his high school football team in northeastern Massachusetts, his decision to tell his teammates that he is gay drew national news coverage.
"I didn't always want to be known as the gay football player," he said. "Now if people meet me they have no idea; they just know me as a member of the community board."
(disclosure: Johnson is a personal friend and sometime staff member of Towleroad, and I have made a personal donation to his campaign)