Allstate embraces drag queens in new ad.

Gay evangelical Azariah Southworth outs Jonathan Merritt, a Christian Chick-Fil-A supporter.

Esquire applauds Frank Ocean's goatee: "Frank Ocean is already seen as a groundbreaker in many circles, but there's one small thing that's been overlooked thus far: The way he wears a goatee in such a smart, modern way. 'It's not connected to his mustache and it has very clean lines,' says Elle Medico, a men's stylist at Paul Labrecque. 'It's a cool twist on the all-attached modern goatee.'"

Mariah Carey inks $18 million deal to judge American Idol.

David Beckham to have mystery starring role in the Olympics Opening Ceremonies? "It is something which nobody will be able to guess. It's different from anything anyone would expect."

The Hill profiles gay Republican congressional candidate Richard Tisei: "Overall, I consider myself a 'live and let live Republican' — the government should get out of your bedroom, off your back and out of your wallet. That's a pretty traditional Northeastern Republican philosophy. We've always had a pretty strong libertarian flavor in our politics up here."

Jackson family in public turmoil.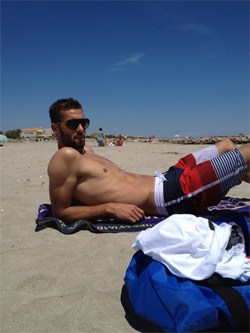 Is Benoit Paire the hottest tennis pro on Twitter?

Man claims Propecia made him transgender and attracted to men.

Meet the new hunks of Glee, Dean Geyer and Jacob Artist.

Phyllis Schlafly speculates that Obama might eventually order the removal of all the crosses from Arlington Memorial Cemetery: "You were talking a minute ago about Arlington Cemetery; if you haven't been there, I'm sure you've seen pictures of all the crosses there and I just wonder if the day is going to come when they want to take down all those crosses."

13-year-old boy says "gay porn" led to his assault on 4-year-old.

Downton Abbey creator James Fellowes discusses Thomas, the show's gay footman-turned-valet: "Every time you tried to make a pass or pick someone up, you were taking your life in your hands and most people would brush it off today but you never know and in those days people knew they had the power to make big trouble for you so, for me, that makes [Thomas] a sympathetic character. It doesn't matter how WASPish he is. You have a kind of fundamental sympathy for someone who's making their life against those kinds of odds and that's why he's one of my favorite characters."

Mario Lopez, covered in gold.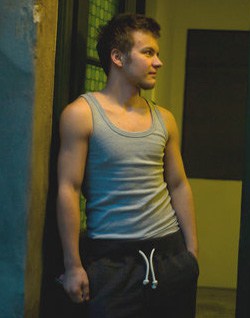 Serbia becomes hub for sex-reassignment surgery: "Nearly 100 foreigners and Serbs have undergone sex-reassignment surgery in the past year, and the numbers are growing, according to the Belgrade Center for Genital Reconstructive Surgery, with candidates coming from France, Russia and Iran, and from as far away as the United States, South Africa, Singapore and Australia."

An inquiry into the very public private marriage of Tom Cruise and Katie Holmes.

The Miami Herald on HIV-prevention drug Truvada: "'It does come with a lot of potential side effects. There are the minor side effects, which I happen to be suffering,' he said. 'It makes it difficult to go to sleep and when you do go to sleep you have some really bizarre dreams. I also have gastrointestinal disturbances. … The other unintended consequence from these drugs: the weight gain. I've gained almost 35 pounds.' The most serious side effects are less common and include acid buildup in blood that can cause weakness, muscle pain, fast or irregular heartbeat; liver problems including enlargement that cause jaundice; bone thinning and kidney problems. More common side effects include diarrhea, dizziness, nausea, headache, fatigue, abnormal dreams, sleeping problems, rash and depression."