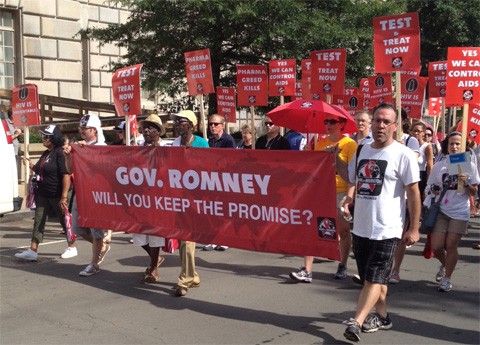 (luna media group)
On Sunday night at the International AIDS Conference, Health and Human Services Secretary Kathleen Sebelius announced four public-private initatives to help those living with HIV/AIDS, the Washington Blade reports: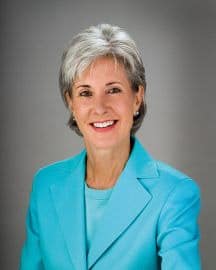 Sebelius announced the projects — including a new $4.5 million multi-year project with the MAC AIDS Fund called the Care for Life Initiative — during remarks she delivered as the final speaker on the opening night of the 19th International AIDS Conference, which is being held in the United States for the first time since 1990. An estimated 25,000 are in attendance for the week-long conference in D.C…
…Besides the Care for Life Initiative, Sebelius also hit on the other three initiatives during her remarks. With the pharmaceutical retailer Walgreens, she announced a three-year partnership with the Centers for Disease Control to explore ways in which pharmacies can help patients stay on their medications. According to a news statement, Walgreens is supplying nearly $1 million in in-kind services for this initiative.
With Medscape, a leading provider of online continuing education for U.S. clinicians, Sebelius unveiled partnership training programs with the Centers for Medicare & Medicaid to help clinicians better understand and address HIV patients' needs. According to a news statement, three new training modules have already been created for physicians, nurses and other medical professionals.
Finally, Sebelius announced that HHS is partnering with the eight largest AIDS drug companies — Abbot Laboratories, Boehringer Ingelheim, Bristol Myers Squibb, Gilead, Genentech, Johnson & Johnson, Merck and ViiV — to create a single application form for AIDS medications offered through their patient assistance programs.
Many more details at the Blade…
In other news, more than 1,000 marched in D.C. ahead of the conference, the AP reports:
Organizers said the aim of the "Keep the Promise" march was to remind world leaders and policymakers that AIDS remains a threat to global health. Marchers used red umbrellas to create a human red ribbon in advance of the march. Some carried balloons in the shape of globes as they marched, and others carried signs that read "Test & Treat Now" and "Yes We Can Control AIDS." The marchers stretched for more than a block, with bands and cheerleaders among the group.
AIDS is seen at a turning point, the AP adds:
The conference's goal is to turn the tide on HIV. Experts say science has provided tools to finally stem the spread of this intractable virus. San Francisco AIDS specialist Dr. Diane Havlir said it would be "an extraordinary failure of global will and conscience" if financial cutbacks block this chance.
She said the world has a chance to "start to end AIDS."
"There is no excuse, scientifically, to say we cannot do it," Fauci, infectious disease chief at the National Institutes of Health, told reporters Sunday.