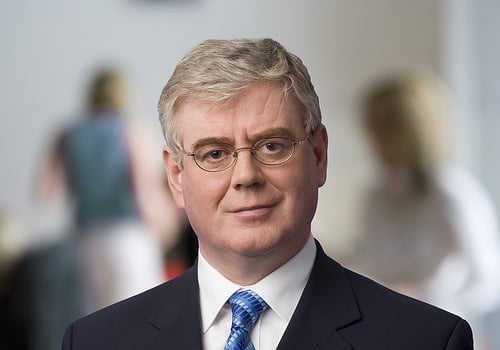 Yesterday was Dublin Pride, and it wasn't just a good time. It was an historic time. As revelers reveled from the Garden of Remembrance through Merrion Square, Tanaiste Eamon Gilmore, Ireland's Deputy Prime Minister, became the most senior member of the Irish government ever to endorse marriage equality, which he called the "civil rights issue of our time."
Gilmore spoke just as the Dublin festivities were dying down. Here's a transcript of his remarks:
As the event draws to a conclusion today, I would like to congratulate the organisers of Dublin Pride 2012 for a very successful week.

Dublin Pride dates back to 1983 and has become an important part of the city's social calendar. It is also becoming an increasingly important attraction, bringing thousands of people to the city, and I would like to warmly welcome these visitors to our capital.

But while the event is primarily a social and cultural one, it also has a political dimension.

As leader of Labour, a Party for whom the politics of personal freedom is so central, I acknowledge that when it comes to promoting understanding and respect, progress has been made in recent years. However, there are some outstanding matters, and if we as a Party are serious about building a new progressive society, these are matters that we will have to resolve.

I believe that in certain key areas, our laws are out of step with public opinion. I don't believe for example, that it should ever be the role of the State to pass judgement on whom a person falls in love with, or whom they want to spend their life with.

That is why the issue of same-sex marriage is to be included for consideration by the Constitutional Convention. I believe in gay marriage. The right of gay couples to marry is, quite simply, the civil rights issue of this generation, and, in my opinion, its time has come.
No similar declaration was forthcoming from Taoiseach Enda Kenny, Ireland's Prime Minister and head of the center-right Fine Gael party (which was nevertheless represented by a float at the Pride Parade). It shouldn't be long, now: Fine Gael has officially supported civil unions since 2003, and party leaders hope to make marriage equality a platform plank in 2012.