President Obama will send a video to the 19th International AIDS Conference next week but won't attend in person, the Washington Blade reports: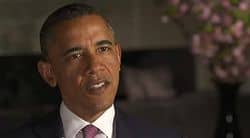 In a notice issued on Monday, the White House announced that Obama is set to provide a brief video message for the conference, which will take place next week in D.C., as part of "[c]ontinuing his personal engagement on this issue." Shin Inouye, a White House spokesperson, confirmed this video message will be in lieu of a live appearance at the event.
"The president will not be speaking at the conference," Inouye said. "He will provide a brief video message to welcome Conference attendees from around the world to Washington."
The Conference will include a number of high-profile speakers and attendees:
Other high-ranking administration officials are set to attend the event, including Secretary of State Hillary Clinton; Secretary of Health and Human Services Kathleen Sebelius; U.S. Global AIDS Coordinator Ambassador Eric Goosby; Director of the White House Office of National AIDS Policy Grant Colfax; and Anthony Fauci, director of the National Institute of Allergy and Infectious Diseases at the National Institutes of Health.
Past presidents will make an appearance at the conference: former President Clinton is slated to speak as well as former President George W. Bush, who set up the fund known as U.S. President's Emergency Plan for AIDS Relief, and former first lady Laura Bush.
More at the Blade…