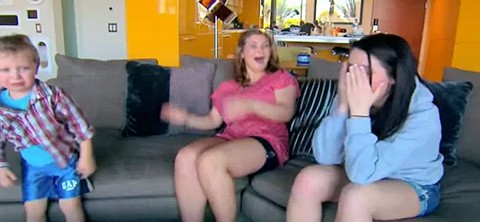 Last night Brandon posted a now widely-circulated video from Life's a Tripp, Bristol Palin's reality show, in which her son Tripp is seen calling her what looks like the word "faggot".
On her blog today, Palin denies that's what he said:
Let me be clear.  I'm not proud of what he did say.  Sadly, he used a different "f word."
Lifetime filmed over 12 months (on and off) and they caught a moment on film that would cause any parent to be red in the face.  Tripp is always surrounded by adults – around the campfires with cousins and their friends, at the shop with my dad and his snowmachine buddies.  He's apparently picked up some language that I'd prefer he not use. On national television or at home.
I do oppose gay marriage, as I've written about before (and the HuffPo points out).  I guess the temptation to label my three year old son is just too great for the lefty papers to resist.  However, one of my new Twitter followers made an excellent point.
He tweeted that the left tries to hold my three year old son more accountable than their adult spokespeople.
Watch again, AFTER THE JUMP…