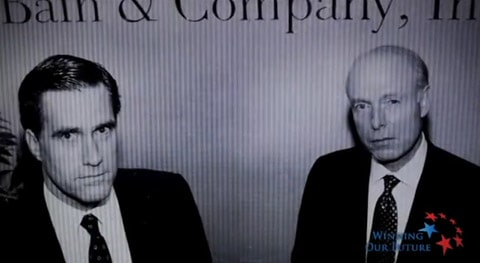 The Boston Globe published a bombshell bit of news this morning:
Romney has said he left Bain in 1999 to lead the winter Olympics in Salt Lake City, ending his role in the company. But public Securities and Exchange Commission documents filed later by Bain Capital state he remained the firm's "sole stockholder, chairman of the board, chief executive officer, and president."
Also, a Massachusetts financial disclosure form Romney filed in 2003 states that he still owned 100 percent of Bain Capital in 2002. And Romney's state financial disclosure forms indicate he earned at least $100,000 as a Bain "executive" in 2001 and 2002, separate from investment earnings.
The timing of Romney's departure from Bain is a key point of contention because he has said his resignation in February 1999 meant he was not responsible for Bain Capital companies that went bankrupt or laid off workers after that date.
According to FactCheck.org, Romney would be guilty of a federal felony if he lied about the departure date.
The Romney campaign is denying the assertions made by the Globe article:
"The article is not accurate," Romney press secretary Andrea Saul said in a statement. "As Bain Capital has said, as Governor Romney has said, and as has been confirmed by independent fact checkers multiple times, Governor Romney left Bain Capital in February of 1999 to run the Olympics and had no input on investments or management of companies after that point."
In a conversation with POLITICO, Romney adviser Matt McDonald also said the Globe report was inaccurate. "Romney wasn't involved in any investment decisions," McDonald said. "He was on the SEC filings becasue he was still techinically the owner, but hadn't transferred ownership to other partners."
The Globe article comes as Romney's Bain tenure is making headlines over allegations that he invested in companies that outsourced jobs while he was there. Today, the Romney campaign released a new ad attacking Obama over those claims.
Watch it, AFTER THE JUMP…