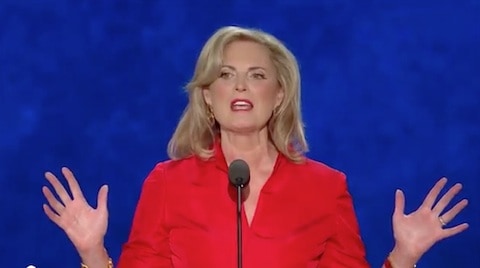 After acknowledging Hurricane Isaac and those in its path, Ann Romney launched into a speech about "love" and tried to offer the impression that the GOP has empathy for women ("I love you women!", Romney yelled at one point.) while painting a more human picture of her husband Mitt.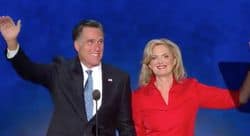 "He moved to a small town in the great state of Michigan. Michigan! There he started a business – one that he built by himself by the way!"
Ann Romney's two best moments were when she said she had a "real marriage," and her description of Mitt Romney's contributions to the community. "Mitt doesn't like to talk about how he has helped others because he sees it as a privilege, not a political talking point. And we're no different than the millions of Americans who quietly help their neighbors, their churches, and their communities. They don't do it so that others will think more of them."
Romney concluded, "You can trust Mitt. He loves America. He will take us to a better place, just as he took me home safely from that dance."
Finally, Mitt joined her on stage.
Watch her speech, AFTER THE JUMP…