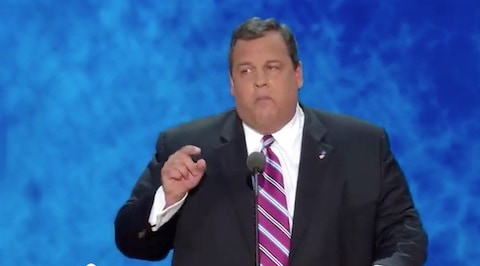 New Jersey Governor Chris Christie's RNC keynote speech was all about him.
He didn't mention President Obama by name, and waited until he was about 16 minutes in until he finally said the R word — Romney — leading to TV images where the GOP candidate and his wife looked less than thrilled.
Christie instead started out with a gentle touch, evoking warm images of his mother, the real boss of his family. But it wasn't long before he got down to politics, citing New Jersey's track record — under his leadership, of course — as an example of the strides that could be made under a Romney administration.
"When I came into office, I could continue on the same path that led to wealth, jobs and people leaving the state, or I could do the job the people elected me to do — to do the big things," he said, not failing to mention his successes have come in a state where Democrats enjoy a huge voter-enrollment edge.
Watch, AFTER THE JUMP…