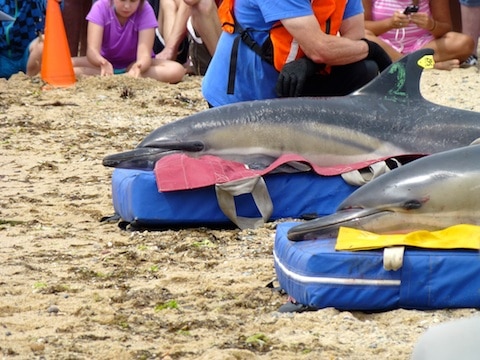 I'm working up on Cape Cod for a few weeks and was out biking yesterday in the National Seashore when I made a swing by Provincetown's Herring Cove Beach and noticed a commotion. A space had been cleared on the beach for the arrival of several Atlantic White Sided Dolphins which had stranded themselves early in the day several miles down the coast at Wellfleet, Massachusetts.
A protected bay, Herring Cove is apparently a much safer place for the rescuers to release the dolphins back into the water. There were six which had beached themselves. Two apparently died in the process, and the four remaining were examined and brought up to Ptown for release.
I arrived at the beach moments before the dolphins were trucked in and shot some video of the release. Notice at about 3:00 you can hear the dolphins start communicating as they are first submerged back into the water.
Really a joyous thing to witness. Thought I would share.
Watch, AFTER THE JUMP…