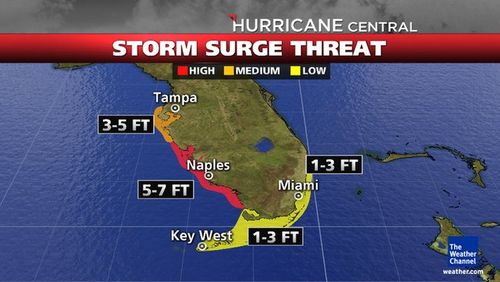 Tropical Storm Isaac has put the kibosh on the first night of the RNC in Tampa, which was to have been Monday. Gov. Mike Huckabee was to speak, as were Govs. Nikki Haley and Jeb Bush. Ann Romney was originally scheduled to appear as well, but was bumped to Tuesday after the news networks decided Monday's slate of speakers wasn't worth covering. Some speakers will probably be bumped altogether, though how many, or which ones, hasn't yet been announced.
From Talking Points Memo:
The convention will convene on Monday and will immediately recess until
Tuesday afternoon, [RNC chair Reince] Priebus announced in [a] statement. "After consulting
with Governor [Rick] Scott, NOAA and local emergency management
officials, we are optimistic that we will begin an exciting, robust
convention that will nominate the Romney-Ryan ticket."
Isaac wrought misery in the Caribbean last night, especially in Haiti, where it caused at least three deaths. As of this writing, Isaac is spinning away from the northern coast of Cuba, likely to hit the Florida Keys sometime this evening, possibly as a weak Category 1 hurricane. The Weather Channel suggests Isaac may turn into a Category 2 on Monday afternoon, but it seems unlikely to make landfall over Tampa. Tampa is, however, likely in for some very doomy weather Monday night, as well as a storm surge of up to five feet.