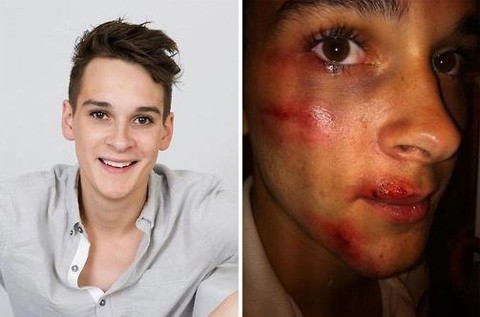 UPDATE: Law enforcement now says the incident was fabricated.
A man identified as "Joseph" was targeted in an anti-gay beating outside a bar in Missoula, Montana in the early hours of Sunday, according to the Wipeout Homophobia page on Facebook, which posted the above set of photos today.
The Missoulian confirms that the man had gone to the Missoula Club to celebrate his 22nd birthday, and it was outside of that establishment that the attack took place:
The man told police he'd asked people about the location of a gay bar, when someone asked him to step outside for a cigarette, Brodie said.
But the man said that when he left the bar, someone hit him, and then two more people joined in, Brodie said. The incident happened at 1:30 a.m. Sunday and the man reported it to police at 4:30 a.m., after he got home, Brodie said.
Missoula Police Lt. Scott Brodie told the paper that the man "indicated he was assaulted because of his sexual preference."
According to KPAX, "Police say they're considering the assault a misdemeanor."