Human Rights Campaign President Chad Griffin talks to Michelangelo Signorile.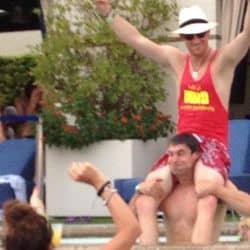 Prince Harry parties in Las Vegas.

Staten Island to get world's largest ferris wheel? "The New York City Economic Development Corporation is in heavy negotiations with a company to build a giant observation wheel — bigger than famous tourist attraction the London Eye and the world's largest wheel, the Singapore Flyer — on a parcel near the ferry terminal, the Advance has learned."

Aphids may be first animal known to undergo photosynthesis: "A handful of animals live in symbiosis with photosynthetic microbes or plants, but none have been found that harness light directly. Now there are hints that aphids increase their production of ATP – the biological energy molecule – in response to light. While this doesn't prove they photosynthesise, it is an intriguing hint that they might."

Nicki Minaj to join American Idol as judge?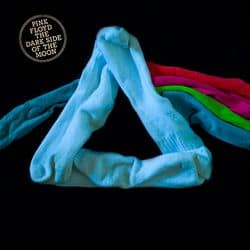 Iconic album covers recreated with socks.

Newark, NJ Mayor Cory Cooker enjoys midnight manis and pedis: "Being a public figure, people talk smack about you, so I found this 24-hour mani-pedi place and go in the middle of the night. It's this guilty pleasure I have. Look, manis are good, but pedis — there's something . . . transformative.'"

Britney finds out what her "Slave 4 U"'s serpent has been up to.

Queen Elizabeth's corgis maul Princess Beatrice's terrier. "It was really nasty. The Queen's dog boy was taking the corgis for a walk and they were joined by the Norfolk terriers, which came [to Balmoral] with Prince Andrew. They were being taken along the long corridor leading to the Tower Door before being let into the grounds for a walk and they all became over-excited."

Elton John has quite the entourage in Saint Tropez: "a group of friends, including Jan-Michael Gambill, Andy Lehmann, Rod Thomas and Dolph Lambert."

Colin Farrell's shirtless downward dog.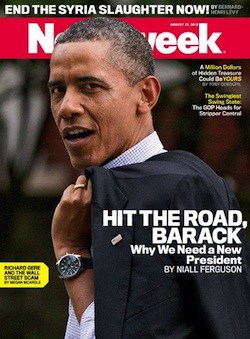 Newsweek tells Obama to hit the road.

Male model fix: Conor Hosford.

Ohio pastor says fire that destroyed his gay-affirming church was a hate crime.

Matthew "Matty The Horse" Ianniello dies at 92: "Ianniello perhaps is most infamous for the dozens of gay bars and discos he was behind during New York City's sleazy days, and he was convicted in 1985 with several associates for skimming profits out of several establishments including the tranny bar Gilded Grape and the hustler bar Hay Market."

STUDY: Students who binge drink to fit in report being happier.

Apple now the most valuable company in history: "The company's stock reached an all-time high of $664.65 per share early Monday afternoon, following strong sales projections for its as-yet-unannounced next-generation iPhone device, the iPhone 5. The record was previously held by another U.S. technology company, Microsoft, at its height in 1999."