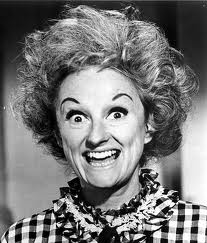 Pioneering female comic Phyllis Diller has died.
TMZ reports:
Sources close to Diller tell us the comedian died at her L.A. home, surrounded by family. She was 95.
We're told Diller had recently fallen, hurting her wrist and hip, and her health had been on the decline ever since. She had been living in hospice care at her home.
Diller suffered a heart attack in 1999 and was later fitted with a pacemaker.
From a 2011 OUT profile:
Now that she's 93, Diller realizes that being "old" in her 50s was nothin'. "You have no idea what aging is — you're just talking about it," says Diller, wearing a sparkly black dress, false eyelashes, and one of her trademark wigs on a rainy mid-February afternoon at her longtime home, in Brentwood, Calif. "You have no idea. Aging is one nasty thing."
Then she breaks out in the cackle that made her famous. "Aaah ha-haaaa!" she blurts, a little weakened by a persistent cough. But she continues: "You've lost so much that you sometimes forget what you've gained." And what is that? "You gain patience, you gain understanding of people, and I have never feared death. To me, it's never the big hoo-ha. It's just a dumb little thing that happens and could happen at any time."
Despite her long-retired act and the not-big hoo-ha that could be looming, Diller still goes out on the town. "Last night I had dinner at Spago for Valentine's Day," she boasts. "Tonight I'm going for a second Valentine's Day dinner." Avec qui? "I have a bevy of men," she declares. "And a lot of them are gay."
RIP.