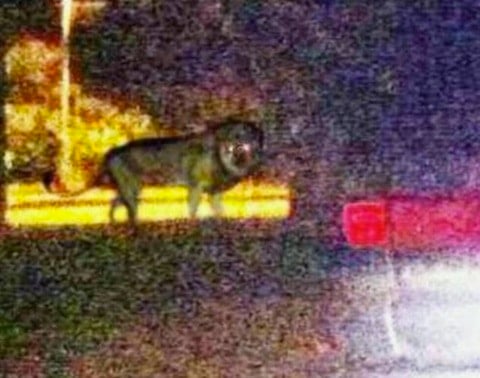 Campers at a UK trailer park reported seeing a lion roaming grasslands in St. Osyth, Essex last night sparking a heat-seeking helicopter search and an armed manhunt, the Telegraph reports:
"It was one million per cent a lion. It was a tan colour with a big mane, it was fully grown, it was definitely a lion. It was just standing there, it seemed to be enjoying itself. There were a dozen or so people who saw it. We are staying on the caravan park down the road. It's very busy – it's a seaside resort and a bank holiday."
Mr Baker, who was out with his two sons, aged nine and 11, said they made a dash for safety.
He said: "I grabbed my children's hands and we ran towards our caravan. My children started to scream, "daddy, is the lion going to get us?"
Watch a report from ITN, AFTER THE JUMP…
(an image being passed around on Twitter is reportedly the lion authorities are looking for)
The escaped lion now has its own Twitter account.
UPDATE: Lion search called off…
Officers have spent almost 24 hours combing the countryside around Clacton-on-Sea after a group of residents on Sunday claimed to have seen the king of the jungle near Earls Hall Drive in St Osyth.
But after search teams found no evidence of the big cat, the police decided to stop looking on Monday afternoon.