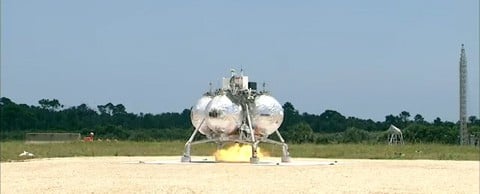 A lander being tested for missions to the Moon and beyond crashed and burned at Cape Canaveral seconds after lifting off in a first test of free flight yesterday, causing a spectacular explosion as its oxygen and methane fuel tanks exploded.
Reuters reports:
"Failures such as these were anticipated prior to the test, and are part of the development process for any complex spaceflight hardware," NASA said in a statement. An investigation is under way, the statement added.
Project Morpheus began in partnership with privately owned Armadillo Aerospace, which is developing re-usable, suborbital vehicles that take off and land vertically.
NASA, which has spent about $7 million on the project over the past 2-1/2 years, is interested in developing technologies that could be used to fly cargo to the moon and other future missions beyond Earth orbit.
Watch the crash in HD, AFTER THE JUMP…