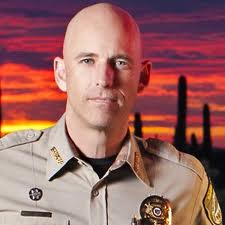 Pinal County Sheriff Paul Babeu, who quit his run for Congress and said he would seek reelection as sheriff last May after a scandal in which he was forced out of the closet after threatening a former boyfriend with deportation, won his Republican primary, the AP reports:
Babeu easily bested three GOP challengers Tuesday to advance to November's general election. The victory comes months after he was forced to acknowledge he is gay after stories emerged of a falling out with a former lover and shirtless photos of him on a gay dating website emerged.
Babeu pulled out of the race for a congressional seat after the news broke and said he wanted to keep his current post instead. He will face Democrat Kevin Taylor in the general election. Taylor beat Kevin Millsaps for his party's nomination.