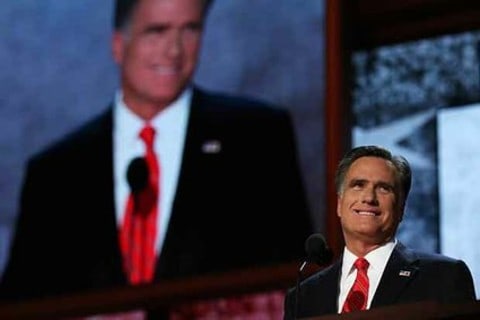 GOProud executive director Jimmy LaSalvia had only nice things to say about Mitt Romney's RNC speech last night.
After watching the Republican Party's nominee address the crowd in Tampa, LaSalvia told The Washington Blade, "Tonight, [Romney] reminded us of exactly why this endorsement was such an easy one for our organization."
"Simply put, Mitt Romney has the experience and vision necessary to lead our country, especially in these difficult economic times," he said.
Jerame Davis, the National Stonewall Democrats' executive director, naturally had quite a different take, telling the paper that Romney and Ryan represent the "most reactionary anti-LGBT platform in politics".
"Mitt Romney's speech capped a bizarre and meandering GOP convention with shallow references to 'defending' or 'honoring" marriage," he said.
What they're not saying in primetime is that this Romney-Ryan ticket comes with the most reactionary anti-LGBT platform in politics. Gay Republicans had to admit defeat in their attempts to moderate the GOP at this year's convention; Democrats, however, have the most pro-LGBT platform and presidential candidate in histor.
For those unfamiliar with Romney's discriminatory politics, HRC yesterday published a handy reference.
Anti-LGBT rhetoric was also seen in Florida Sen. Marco Rubio's introduction to Romney. In his remarks, Rubio declared, "We're bound together by common values. That family is the most important institution in society. That almighty God is the source of all we have." That sounds a lot like what Paul Ryan said in his own speech.
Watch Rubio's appearance AFTER THE JUMP.