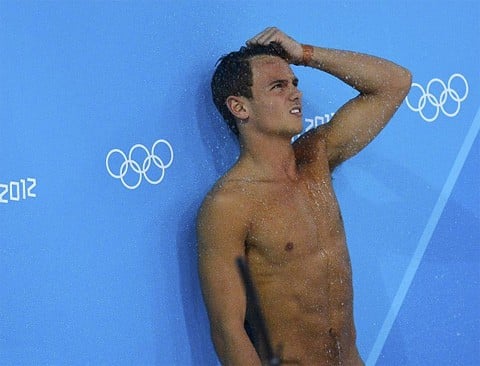 Welsh football player Daniel Thomas has been suspended for a tweet sent to British diver Tom Daley after his fourth place finish on Monday which read, "if there is any consolation for finishing fourth atleast daley and waterfield can go and bum eachother #teamHIV".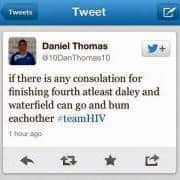 The BBC reports:
Daniel Thomas, 28, will be the subject of an internal investigation into a tweet sent to Daley, Welsh Premier League Port Talbot Town FC says…Port Talbot FC officials confirmed midfielder Thomas had been suspended while they investigated the incident. A club spokesman said: "Port Talbot Town Football Club can confirm Daniel Thomas has been suspended from all involvement with the club until we have carried out a full internal investigation.
Said a spokesman for the club: "We were made aware to an offensive comment appearing on the Twitter feed of one of our players. Upon being informed of the matter, we immediately distanced ourselves from any offensive messages whilst investigating the matter further. Having spoken at length to the player in question, we believe he regrettably left his phone unattended and was the victim of a very misguided 'prank'. All footballers at Port Talbot Town will also be briefed on the appropriate use of social media and ensuring it is used securely and responsibly."
The footballer's Twitter account has also been suspended.
The incident followed another incident in which a British teen was arrested after tweeting Daley:
"You let your dad down, I hope you know that," he had written. Daley's father lost his battle with cancer in 2011.
Shortly before the final had begun, Daley had expressed his gratitude for the support he had received since that time.
"After the toughest year of my life, today is the day!" Daley wrote. "I just want to thank everyone for all their support no matter what the outcome."
The British teen was arrested "on suspicion of malicious communications" according to the BBC.
A spokesman was unable to confirm whether the arrest was specifically over the tweets to Daley or subsequent Twitter conversations with other users.
(tweet screencap via gay star news)