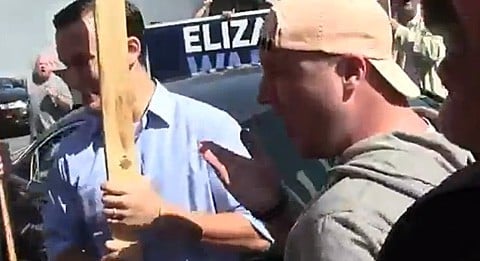 As you may know, Massachusetts Senator Scott Brown amped up rhetoric accusing Democratic challenger Elizabeth Warren of using her Native American heritage to her professional advantage, using the claims in advertising and as his opener in his debate against Warren.
Rachel Maddow took on Brown's claims in an excellent segment last night.
Now, a video has surfaced showing Brown staffers making Native American 'war whoops' and tomahawk chops in a face-off with Warren supporters, presumably to mock Warren's Cherokee heritage.
Here you can see Brown's staffers making "war whoops" and "tomahawk chops", presumably in reference to Warren's Cherokee heritage. Identified in video making the chop are Brown's Constituent Service Counsel Jack Richard (camoflage shirt) and — we believe — Massachusetts GOP operative Brad Garrett, front and center with tan baseball cap and gray hoodie, leading the whoops and chops.
Brown responds to the video by doubling down on his racial attacks:
"It is certainly something that I don't condone," said Brown when asked about the video. "The real offense is that (Warren) said she was white and then checked the box saying she is Native American, and then she changed her profile in the law directory once she made her tenure."
Watch all the clips, AFTER THE JUMP…
And Mediaite has a suggestion:
To the extent that it matters, the racism behind the Brown/Romney attacks is likely unintentional, springing from the fact that questions of race are completely beyond their experience, but if you doubt that racism, then all you have to do is inject that question into their experience. Neither Mitt Romney nor Scott Brown has ever had to prove they're white. Maybe it's time they produced some evidence that they're not just "passing." Would that national media sit silently if a U.S. Senator or presidential candidate asked either of these men to prove they're not black, or Mexican, or even Native American? Maybe it's time someone did ask. Papers, please.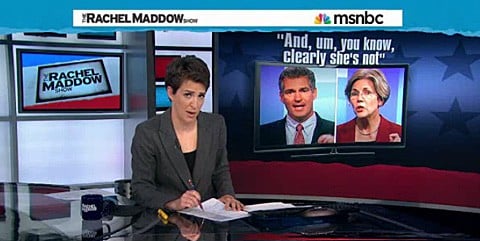 Visit NBCNews.com for breaking news, world news, and news about the economy
Part 2:
Visit NBCNews.com for breaking news, world news, and news about the economy