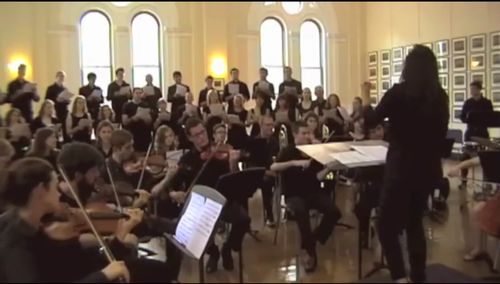 Perhaps you don't need to hear another version of Carly Rae Jepsen's "Call Me Maybe" again, but do. Just one more. AFTER THE JUMP, find a gorgeous, and — maybe this is just me — somehow melancholic, fully orchestral, end-of-summer take on the season's infectingest, saccharinest hit.
From the NY Daily News:
Colin Britt and Arianne Abela arranged a full-on orchestral rendition of the song replete with glockenspiels, violas and violins.

"Like everyone, I have heard this song a lot for the entire summer," Britt told the Daily News. "And I, like everyone—whether they want to admit it or not—have the guilty pleasure of enjoying it."

Britt got an idea to record a version from the string riff that appears during each chorus … The arrangers sent invitations to classically trained musicians near New Haven, Conn. to perform a pop song, but didn't tell them the specific song until they arrived.
Sixty-some-odd musicians showed up. They dubbed themselves the 3Penny Chorus and Orchestra, and they rocked.