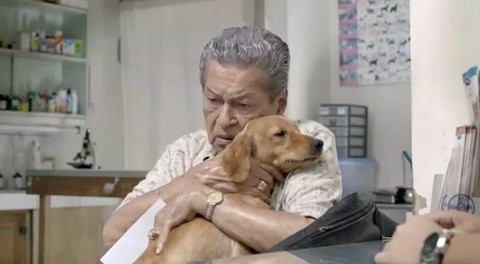 A film about being gay and growing old is getting attention in the Phillippines where it was made, and has been submitted as the country's Academy Awards entry for Best Foreign Film, the WSJ reports:
The movie stars Eddie Garcia, a popular Filipino actor, as Rene, a curmudgeon with a sensitive side who didn't come out of the closet until he was 60 and now faces old age alone. Rene occupies his time talking to his dog, Bwakaw (which rhymes with "Macau" and translates to "voracious" or "greedy"), hanging out with a gay couple who run a hair salon and visiting an elderly nursing-home resident (Armida Siguion-Reyna) who is eventually revealed to be a former sweetheart…
…[Director Jun Robles Lana] wanted to capture the sadness and silence of aging, "but at same time I didn't want the film to be bleak. I used humor to break the silences," he said.
To attract moviegoers in the Philippines, "Bwakaw" is being marketed as a comedy, with ads and trailers highlighting its lighter moments, including an upbeat poster that shows Bwakaw perched on Rene's shoulder. Producers thought it would be an "easier sell," Mr. Robles Lana said, noting that locally made comedies and horror movies dominate the country's box office.
Watch the trailer, AFTER THE JUMP…