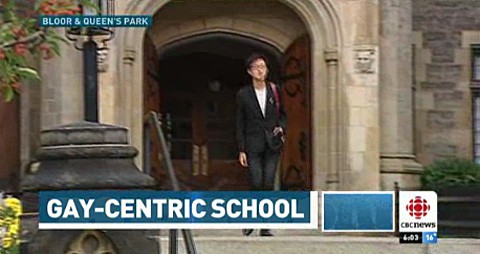 Fan Wu, 20, a university student who said he experienced a kind of "covert bullying" in school because he could not speak about his sexuality, has proposed a 'gay-centric' high school in Toronto, and a public meeting (though closed to media) was held about it Wednesday, the CBC reports:
Irene Miller, president of the Toronto chapter of Parents, Families and Friends of Lesbians and Gays (PFLAG), says separating kids because of their sexual orientation won't help encourage acceptance. "What you're doing is saying: 'If we take away all the kids who are being bullied, then the bullying stops,'" Miller said. "What we should be doing is take away all the bullies and the bullying will stop. It's the wrong end of the stick."
Wu maintains this conceptual school is "not a segregation project" but would simply be another alternative school focusing on diversity and acceptance. "This is not an ostracism project," Wu said. "As with most alternative schools, every student will have a choice to apply to this school, regardless of their academic standing, regardless of their financial background, regardless of their sexuality in particular.
"So we would welcome allies, straight people, lesbian, gay, bi, trans, people of all sorts into this school. There is no ghettoization going on here."
Watch the CBC's report and interview with Wu, AFTER THE JUMP…