Vanity Fair's New Establishment List is heavy on tech people.

Facebook-Instagram deal closes, as latter announces 5 billion photo uploads.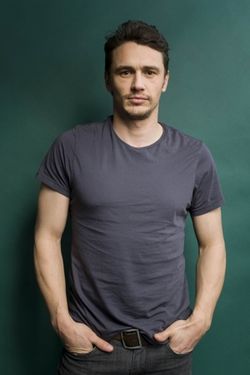 James Franco sued for defamation by NYU professor.

Live Out Loud: Are you interested in returning to your school as a role model for LGBT youth?

This week's satellite eye on Earth.

Tuesday's DNC speaker line-up was the most LGBT-friendly of all time: "From First Lady Michelle Obama's family-affirming statement that "If proud Americans can be who they are and boldly stand at the altar with who they love, then surely – surely – we can give everyone in this country a fair chance at that great American Dream," to Colorado Representative Jared Polis' reference to his loving partner and their child, to Glee star Amber Riley singing the National Anthem – nearly every minute of last night's kick-off featured pro-marriage advocates."

NYT: Gay Democrats celebrate newfound visibility. "The turnaround has surprised even gay leaders, who just four years ago were frustrated in their attempt to get same-sex marriage mentioned in prime time. Many spent the first two years of the Obama presidency criticizing President Obama for failing to move to fulfill a campaign promise to eliminate the ban on gays serving openly in the military."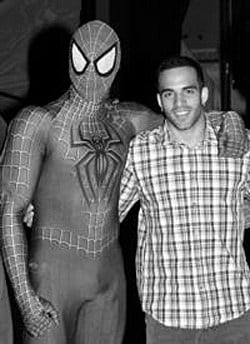 Olympian gymnast Danell Leyva joining cast of Spider-man on Broadway? NY POST: "He has designs on one of the nine Spidey roles who do the bulk of the swinging around the theater," says a production source. And apparently, "The ladies of 'Spider-Man' are drooling at the possibility." 

Former LOGO A-List reality actor Rodiney Santiago is launching his own set of undies for Rufskin.

Glee versions of Britney's "Gimme More" and "Boys" go online.

Pop band fun. to play concert for Maine marriage equality: "Mainers United campaign manager Matt McTighe says the concert six days before the Nov. 6 election will excite supporters and remind voters what's at stake when they vote on a ballot question asking if they want to allow same-sex couples to marry."

Oscar producers Craig Zadan and Neil Meron honored by Outfest: "The producing partners, whose credits include Footloose, Chicago, and Hairspray, have been selected to receive the Visionary Award from Outfest, the organization dedicated to gay and lesbian entertainment, at the group's 8th annual Legacy Awards."

Joe Manganiello, Remixed.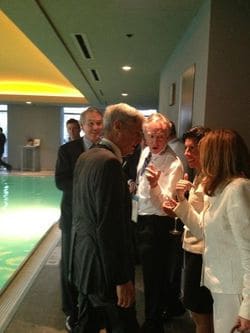 Former Clinton Treasury Secretary Rubin fell into pool at Charlotte cocktail party.

Is your iPad giving you insomnia? "Our study shows that a two-hour exposure to light from self-luminous electronic displays can suppress melatonin by about 22 percent," said lead researcher Mariana Figueiro in a statement last week. "Stimulating the human circadian system to this level may affect sleep in those using the devices prior to bedtime."

"Lesbian duo" stages kiss-in counter-protest at DNC.

Former gay adult film star Ryan Idol seeks retrial in attempted murder case: "Idol
was convicted for attempted murder on Sept. 20, 2011 after failing to
convince a Sacramento Superior Court jury that he acted in self defense
when whacking his ex with the toilet tank lid, claiming that he thought
she had pulled a knife during their post breakup fight in her bathroom.
'I just hope I can put this whole unfortunate episode behind me and get
on with my life," Idol said today in a statement. "I've made some big
mistakes and let myself and others down, but I'm always amazed at how
many people remember me and wish me well. My gay fans, in particular,
are an amazing source of support and I really appreciate their thoughts
and prayers.'"