KOS: Did Romney receive 'amnesty' from federal tax evasion?

When will the media stop treating Family Research Council like a serious organization?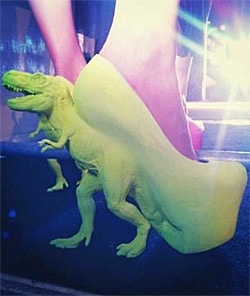 Tyrannosaurus heels.

Beyonce and Jay-Z adding another member to the family?

My son is in love with another boy: "So here's how it happened…I was videotaping Twirl getting Tornado to talk. He was getting Tornado to repeat words. 'say C.J.' then he turns to me and says 'Mommy, do you know who I am in love with? … CJ!!" And I say "ohh you are?' and he says 'Yes, I have been in love with him since the day I first saw him on the playground'  Twirl had a huge grin and was almost squeezing his knees to his chest in excitement."

Feist wins the Polaris Music Prizeo: "Feist beat out nine other Polaris short list nominees to win the award, including Cadence Weapon, Cold Specks, Drake, Kathleen Edwards, Fucked Up, Grimes, Handsome Furs, Japandroids and YAMANTAKA // SONIC TITAN."

Just Jared interviews Glee newcomer Jacob Artist.

VIDEO: Two men in suits fight over cab in Manhattan.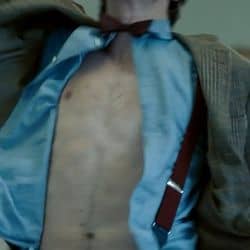 It's Dr. Who's nipple!

Steve Jobs gets wax figure at Madame Tussaud's: "The model is based on pictures taken of the tech innovator during a 2006 Fortune magazine shoot, Madame Tussauds said. It shows the Apple Inc. cofounder in a relaxed position, arms crossed loosely over his chest, with a pair of silver-rimmed Lunor glasses perched on his face."

The Beckhams are all footballers.

Jake Gyllenhaal to co-star with Hugh Jackman in the thriller, Prisoners.

Teen launches Gay-Straight Alliance in Columbus, Indiana: "Lexi has not yet had to use her new skills, as she has almost exclusively received support for her initiative. Although some of her organization's fliers were ripped off the school's pin boards or defaced, attendance at the three GSA meetings so far has steadily increased, Lexi said. About 20 attended the most recent meeting."

Push and Shove: Here's the new No Doubt video!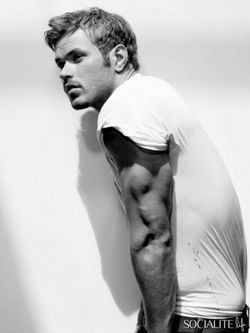 Kellan Lutz emotes for photographer Mark Abrahams.

Coen brothers movie Fargo to become a TV series: "FX has closed a deal to develop Fargo, an hourlong project loosely based on the Coen brothers' 1996 comedic crime drama. The Coens will serve as executive producers on the project, which will be written/executive produced by The Unusuals and My Generation creator Noah Hawley."

ABC News profiles gay Republican congressional candidate Richard Tisei: "I feel like yeah I'm probably— I might be the catalyst because I'd be one of the first people to break through and I embrace that."

Dow Jones adds UnitedHealth to the index.

Pro-gay rights GOP Super PAC to support U.S. Rep. Judy Biggert with ads attacking Democratic candidate Bill Foster: "Ms. Biggert is one of three Republican candidates supported by American Unity PAC, founded last June by New York hedge fund billionaire Paul Singer, who has also worked to legalize same-sex marriage in New York and other states. Ms. Biggert has voted for stricter sentencing for anti-gay hate crimes and to ban employment discrimination based on sexual orientation, which Mr. Foster also voted for when he was in Congress. In addition, she has a record as a fiscal conservative, a spokesman for the group noted."