Presidential race narrows to a core of nine states.

Bletchley Park Trust to release special Monopoly edition based around Alan Turing.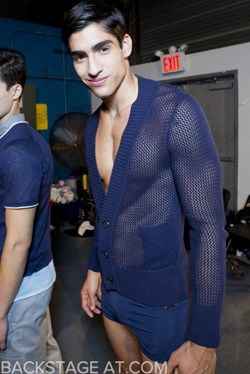 Kevin Tachman goes backstage at the Parke & Ronen show.

VIDEO: Britney Spears impersonator hits Britain's X-Factor.

The Maine Sunday Telegram profiles the pro-equality warriors in Maine and the bigots they are fighting: "Most of them will be anonymous, operating behind the scenes. But they'll play influential roles in shaping strategy and managing the day-to-day execution of a battle that will draw national attention and millions of dollars in contributions on both sides of the issue."

Ryan Lochte, shirtless in his 30 Rock cameo.

'Get a Kluwe' T-shirt.

Guerilla Gay Bar launching in NYC.

NYC gay bar Eastern Bloc hosts Obama fundraiser: "Mickey Boardman, editorial director for New York's independent Paper Magazine, helped to organize the Eastern Bloc fundraiser, which had a modest goal of raising $20,000. By midnight, when the dancers took to the poles, they'd collected more than $10,000. The host committee included Karen Elson, the model and ex-wife of White Stripes frontman Jack White; Derek Blasberg, Harper's Bazaar editor-at-large, and Sean Avery, the retired professional ice hockey player. Blasberg's own Harper's Bazaar wrote that the fundraiser would show 'D.C. how it's done.'"

Ryan Reynolds and Blake Lively marry in South Carolina.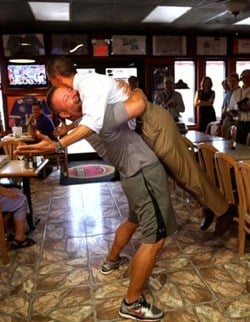 Pizza shop owner lifts Obama.

Male model fix: Adam Cowie.

Seattle landlord fights marriage equality: "A property company that owns a slew of condo and apartment buildings on gay-friendly Capitol Hill has donated thousands of dollars to Preserve Marriage Washington—the campaign battling gay marriage in our state—after allegedly trying to prevent two tenants from hosting a pro-gay-marriage fundraiser in the courtyard of one of its apartment buildings."

Birdwatching with Jon Hamm.

Democrats advance transgender rights but don't talk about it at Convention: "The progress on trans issues, though significant, has happened under the radar for the most part. And, unlike steps taken by the administration on marriage and the military, movement on trans issues — including coverage in the party's platform — rarely is trumpeted as a success outside of LGBT-specific (or even trans-specific) forums and media."

Hubble spots ancient galaxy that shouldn't exist: "This galaxy is so large, so fully-formed, astronomers say it shouldn't exist at all. It's called a 'grand-design' spiral galaxy, and unlike most galaxies of its kind, this one is old. Like, really, really old. According to a new study conducted by researchers using NASA's Hubble Telescope, it dates back roughly 10.7-billion years — and that makes it the most ancient spiral galaxy we've ever discovered."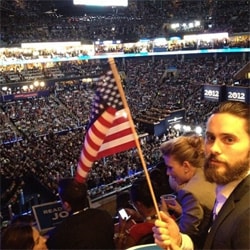 Jared Leto rocked a bushy beard at the DNC.

Moscow court sides with government, upholds ban on gay rights rally: "The court has dismissed the appeal filed by Nikolai Alexyev, who organizes gay rights parades and had asked the court to order the Moscow City Hall not to hinder the legal right to hold rallies. The rally was planned to be held on the downtown Moscow avenue of Novy Arbat on Civil Aviation Day (December 7). Its purpose was to condemn Aeroflot's discriminatory policies toward homosexual employees."

Google unblocks the word "bisexual" from its search algortihm: "It's not every day one of the biggest companies in the world changes its mind, but we are thankful that Google now sees bisexual people just like everyone else," said BiNet USA President Faith Cheltenham. "It will take time for bisexual search terms to be ranked as they were before the ban, but now bisexual people and their allies have a fighting chance to be seen, heard, and understood."