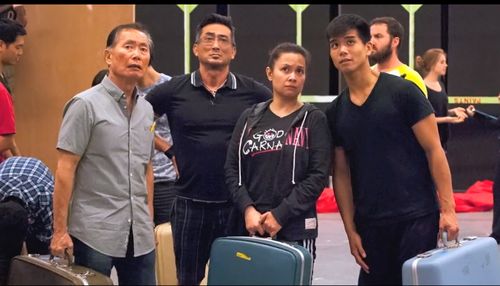 Congrats to the fabulous gay man, excellent actor, hilarious Facebook photo-poster, and all-around mensch George Takei on his big weekend. Not only is today the 46th birthday of Star Trek — the show on which Takei became famous as Mr. Sulu, maybe the first heroic TV role ever given to a Japanese American — but this is also the first weekend of previews for Allegiance, a new musical by Jay Kuo, Marc Acito, and Lorenzo Thione, in which George Takei stars at San Diego's Old Globe Theatre.
From the Old Globe's website:
Allegiance is an epic story of family, love and patriotism set during the Japanese American internment of World War II. Sixty years after the attack on Pearl Harbor, a chance meeting forces WWII veteran Sam Kimura (television and film star George Takei) to remember his family's relocation from their California farm to the Heart Mountain internment camp. As they struggle to adjust to their new home, Young Sam (Telly Leung – Godspell, "Glee") and his sister Kei (Lea Salonga, Tony Award winner for Miss Saigon) find themselves torn between loyalty to their family and allegiance to their country. With its moving score, ALLEGIANCE takes audiences on a journey into our nation's history through the eyes of one American family.
As it happens, Mr. Takei spent a portion of his childhood in one of the United States' Japanese internment camps. Here you can hear him discuss the experience on PRI's The World. And AFTER THE JUMP, you can hear one of Allegiance's songs and view some photos from rehearsal.
Allegiance officially opens at the Old Globe on September 19th.