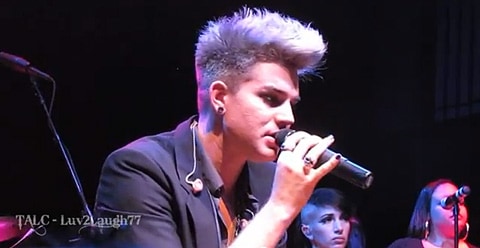 Adam Lambert hit Washington DC's 9:30 Club last night for a benefit show for Marylanders for Marriage Equality in support of Question 6, the referendum on Maryland's Civil Marriage Protection Act.
Before launching into a gorgeous rendition of his track "Outlaws of Love", Lambert spoke powerfully to the crowd about the issue: "It has nothing to do with the partisan [politics]. It's a human rights issue."
Watch, AFTER THE JUMP…
In related news, earlier this week Maryland Governor Martin O'Malley said that $2 million more dollars needed to be raised:
"We're continuing to raise every day in every way, but I really want to make it clear here that we have the ability to pass this in Maryland," he told LGBT reporters and bloggers from across the country during a Marylanders for Marriage Equality conference call. "It is keeping with the character of our state. It will protect rights equally under the law while protecting religious liberty. That's why our state was founded to begin with, but we do need to raise money here. We do need to raise another couple of million dollars, and if we're able to do that I believe that we will pass this. And raising those dollars is critically important for our ability to be able to defend this at the ballot."
Meanwhile, a new poll is out from Gonzales Research & Marketing Strategies: "Fifty-one percent say they will vote to uphold the state's same-sex marriage law, while 43 percent say they will vote against it. Six percent are undecided. The law would allow gay nuptials to begin in January."