Four Marines from Southern California's Camp Pendleton were arrested early Sunday morning after they allegedly beat a gay man after taunting him with homophobic slurs inside the Silver Fox bar in Long Beach: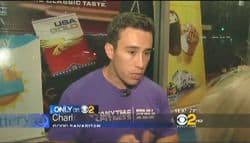 Police arrested the four Marines after they say the suspects beat the full-time film student until he passed out. They may be charged with a hate crime.
Charlie Harris (right) was working in the bar and ran to help. "You could hear the punches…it was bad," Harris said.
"You just saw fists, and muscles, and tattoos, and all those guys were on top of him," David, the victim's boyfriend, said. He said he was too shocked to move.
Watch a report from the CBS local affiliate and interview with the victim, AFTER THE JUMP…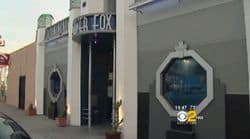 The Press Telegram reports:
Silver Fox Manager John Barnes told the Press-Telegram on Monday that the four men came into the bar late Sunday or early Monday and the primary culprit, who seemed visibly uncomfortable while at the bar, called Barnes "sweetheart."
"You could tell by the tone of his voice that he was uncomfortable, he was making a demeaning remark," Barnes said.
The attack occurred as the bar was closing, with the primary suspect punching a young gay man who was much smaller, Barnes said. Police were on scene within moments of the call, and the suspects were detained and arrested for assault.
Watch CBS Local's report, AFTER THE JUMP…
Video may take a moment to load…