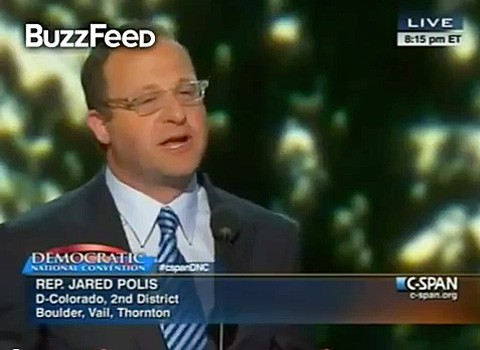 Another speech I didn't get to last night was that given by out gay Congressman Jared Polis (D-CO) in which as "an entrepreneur" and "an optimist" he celebrated Obama's LGBT rights achievements and called for greater unity.
Said Polis, in part:
[Obama's] vision for one America, one in which we can overcome our divisions to make our country greater, continues to be an enormous challenge to Washington, D.C., a town with professional pundits and pols, whose entire livelihood is never-ending partisan bickering.
But ladies and gentlemen, now is our chance to tell the dividers no, tell the special interests and cynical Washington insiders no, tell the lobbyists and PACs no, and tell our fellow countrymen and women, gay and straight, Christians, Jews, Mormons, Muslims and nonbelievers, rich and poor, black and white, Latino and Asian, east and west, north and south; it is time to tell them yes, together we are stronger, together we are better, together we are America.
And that is why we must continue bringing America together. So tonight, I don't just ask my fellow Americans to respect my relationship with my partner Marlon and my role as a father to our son. I also ask them to respect the Christian family concerned about decaying moral values and crass commercialism. I ask them to respect the difficult decision of a single mother to bring a child into this world, because of her heartfelt beliefs.
And it is why we must help that courageous woman have the support she needs after her child is born. We celebrate Americans of all backgrounds and beliefs, even Republicans, because this is their future, too. Republicans mocked our desire to heal the planet, but we will heal it for Republicans too, and we will create jobs for Republicans too.
Watch, AFTER THE JUMP…
Click HERE for our full Democratic National Convention wire.