President Obama has opened up big leads in significant swing states according to a new Quinnipiac University, NYT poll, CBS News reports: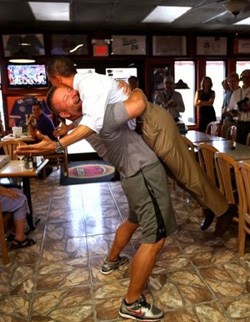 Here are the overall figures: Mr. Obama leads 53 percent to 43 percent in Ohio. He leads 54 percent to 42 percent in Pennsylvania. And he leads 53 percent to 44 percent in Florida. In all three states, the president is seen as better able to handle the economy. And in all three states, majorities of voters think Romney's policies will favor the rich.
What can Romney look at for a shred of hope?
The race is far closer among voters who say they are paying a lot of attention to the campaign – it's a tie among that group in Ohio, and Mr. Obama's lead in Florida shrinks to four among this subset. And in two of the states, Ohio and Pennsylvania, Republicans remain considerably more enthusiastic than Democrats about voting this year.
Still, there is little here for the Republican presidential nominee to celebrate. Mr. Obama holds six point leads in Ohio and Pennsylvania on the question of who would do a better job on the economy, and a five point lead on that question in Florida. Last month, Romney led in Florida on handling the economy.
And in the wake of the release of Romney's secretly-recorded "47 percent" comments, 56 percent of Florida likely voters, 58 percent of Ohio likely voters, and 59 percent of Pennsylvania likely voters say his policies would favor the rich.
Here's the NYT poll.