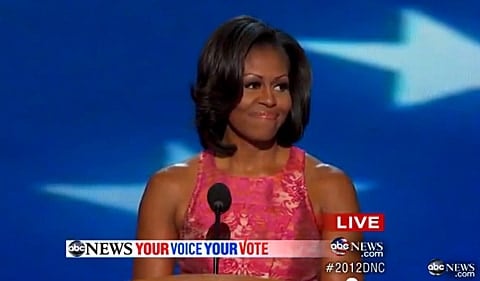 Stepping on to the DNC stage in a rosy luminescent Tracy Reese dress, First Lady Michelle Obama launched into a speech about progressive values, working families, and her own experience in and out of the White House.
"Well, today, after so many struggles and triumphs and moments that have tested my husband in ways I never could have imagined," said the First Lady to huge cheers, "I have seen firsthand that being president doesn't change who you are. No, it reveals who you are."
She hit on the President's health care challenges:
"When it comes to the health of our families, Barack refused to listen to all those folks who told him to leave health reform for another day, another president. He didn't care whether it was the easy thing to do politically. No, that's not how he was raised — he cared that it was the right thing to do."
And gave at least two nods to gay people, such as this one: "Barack knows the American Dream because he's lived it, and he wants everyone in this country to have the same opportunity, no matter who we are, or where we're from, or what we look like, or who we love."
Adding, "For Barack, success isn't about how much money you make, it's about the differences you make in people's lives."
Watch the whole speech, AFTER THE JUMP…
Click HERE for our full Democratic National Convention wire.