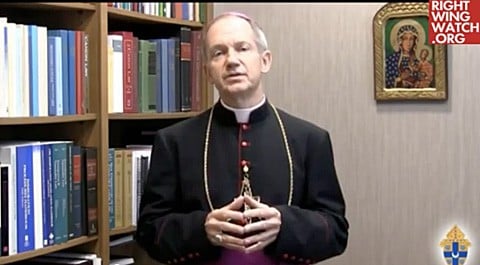 Bishop Thomas John Paprocki of Springfield, Illinois isn't instructing you "for whom you should vote" but warns that voting Democratic is supporting "intrinsic evil" and putting your soul at risk, Right Wing Watch reports.
Says Paprocki in a video:
Certainly there are "pro-choice" Republicans who support abortion rights and "Log Cabin Republicans" who promote same-sex marriage, and they are equally as wrong as their Democratic counterparts. But these positions do not have the official support of their party.
Again, I am not telling you which party or which candidates to vote for or against, but I am saying that you need to think and pray very carefully about your vote, because a vote for a candidate who promotes actions or behaviors that are intrinsically evil and gravely sinful makes you morally complicit and places the eternal salvation of your own soul in serious jeopardy.
Watch, AFTER THE JUMP…