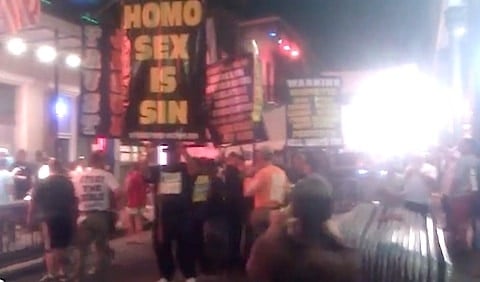 Nine men have been arrested for anti-gay street preaching against celebrants at New Orleans' annual Southern Decadence weekend, the Times Picayune reports:
Patrick O'Connell, 45, Rolando Igleasias, 31, Cesar Chavez, 22, Daniel Hoogerhuis, 26, Danny Guevera, 20, Larry Craft, 52, Montes Diego, 32 and Gary Brown, 33 were arrested on suspicion of aggressive solicitation, a city law passed last October.
The ordinance prohibits "any person or group of persons to loiter or congregate on Bourbon Street for the purpose of disseminating any social, political or religious message between the hours of sunset and sunrise."
Another man was arrested for attempting to assault an officer.
New Orleans police spokesman Frank Robertson said the men were previously warned not to use bullhorns, but did not comply. Casey Kolosky, a bouncer at Tropical Isle, said the preachers were making slurs against gays and also mentioned Hurricane Katrina victims.
Watch, AFTER THE JUMP…