The Canadian Supreme Court today ruled that people with low levels of HIV who use condoms during sex need not disclose their condition to sexual partners, the CBC reports: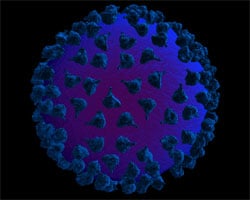 In a 9-0 ruling, the top court updated a landmark 1998 decision that made it a crime if HIV carriers did not reveal their status when there was a significant risk of transmission to a sexual partner. The court ruled Friday that the "realistic possibility of transmission of HIV is negated" provided the carrier of the virus has a low viral load and a condom is used during sexual intercourse. Otherwise, HIV carriers have to disclose their status to their partners.
The court also said the new ruling does not preclude the law from adapting to future advances in medical treatment and to circumstances where different risk factors are at play. Under the previous law, HIV-carriers who didn't tell partners they had the virus could be charged with aggravated sexual assault. The maximum penalty is life in jail.
More at the CBC.
UPDATE: The interveners released a statement in response to the ruling, which you can read here.
As a coalition of interveners, we are shocked and dismayed at
today's ruling by the Supreme Court of Canada that says that even the responsible use of
a condom does not protect a person living with HIV from rampant prosecution. The
Court's judgments in R. v. Mabior and R. v. D.C., two cases relating to the criminalization
of HIV non-disclosure, are a cold endorsement of AIDS-phobia. They will stand as an
impediment to public health and prevention, and add even more fuel to stigma,
misinformation and fear. And they place Canada once again in shameful opposition to
standards set out by international human rights bodies, UNAIDS and the Global
Commission on HIV and the Law.