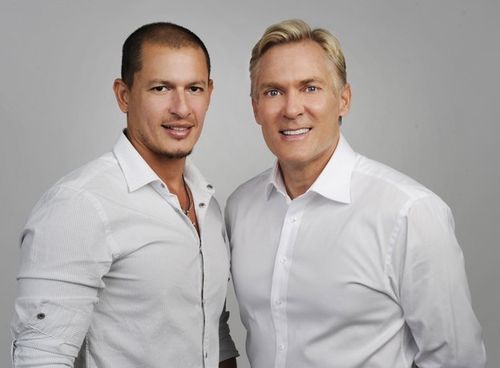 TV meteorologist Sam Champion is gay and engaged to be married to his boyfriend Rubem Robierb, ABC News reports:
"We are thrilled and so excited and thank everyone for their good wishes," says Champion.
Champion and Robierb met through mutual friends a few years ago in Miami, where Robierb lives. Born in Brazil, Robierb is a fine-arts photographer who shows his work in Miami, Atlanta, Santa Monica and New York.
The two plan to wed later this year.
Champion also discusses his engagement in a report on last weekend's wedding of MSNBC Anchor Thomas Roberts to Patrick Abner, published in the Vows section today:
Among the 170 or so guests at the reception was Sam Champion, the weather anchor at ABC's "Good Morning America." He took a turn on the dance floor with his partner, the photographer Rubem Robierb.
"We're getting married New Year's Eve in Miami," Mr. Champion said in the spirit of the moment.
Mr. Robierb corrected him: "We'll do it here officially, and then have a party in Miami."
Tweeted Champion this afternoon: "I've never been happier to share a bit of personal news!!"
While Champion has dwelled in a so-called 'glass closet' for some time, I believe this is the first time Champion has discussed his sexuality publicly. Someone please correct me if I'm wrong.
Congrats in any case!