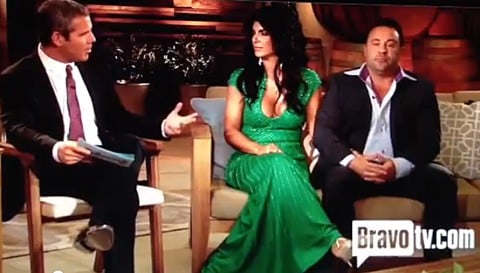 Bravo's Andy Cohen confronted Real New Jersey Housewife Teresa Giudice's husband Joe about his homophobia on a "lost footage" extension of the show's reunion program over the weekend, Radar Online reports.
Cohen asked Giudice aboutt remarks he made that one of the show's gay castmembers had a "loose butthole".
"Everyone laughed. I mean, that was funny," interjected Teresa.
"I mean even gay guys tell me it was funny," said Joe.
"Growing up, we always used the word… we call each other, faggot, homo or whatever, that was just our words growing up. doesn't mean anything. We were friends. We call each other names all the time, it doesn't mean we're gay. We just would use that word for whatever reason, that just was in our vocabulary… It was just a word that everybody used. Now, I don't use the word anymore because it's not appropriate and people don't want to hear that, so I don't use it."
Watch, AFTER THE JUMP…