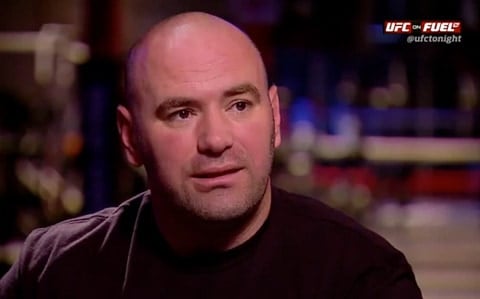 Back in 2009, Ultimate Fighting Championship President Dana White recorded a vlog directed at mixed martial arts reporter Loretta Hunt which contained misogynistic and anti-gay slurs. White was angry at Hunt for a story she wrote reporting on new restrictions on backstage credentials at the UFC fights.
In the vlog, White referred to one of her sources as a "f**king faggot".
In an interview with Ariel Helwani for Fuel TV's UFC Tonight which aired last night, White talked to Helwani about his career, telling him that the only thing he regrets is his use of that slur because it has followed him ever since:
"You guys have to understand this, but this is the way I am. I have no regrets. The only thing that I regret is in that video blog when I used the F word. That's the only thing throughout the 12 years of running the UFC. The way I came off in that thing, people still think I'm some kind of homophobe, and I'm not. That still bothers me."
Watch, AFTER THE JUMP…