Serbia's Gay Pride parade planned for this weekend in Belgrade has been canceled as have all activities related to it, B92 reports: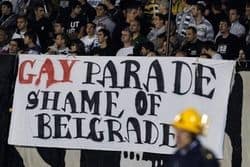 Previously, Dačić said that the parade would be banned if security services found the risk of violence associated with it was too high.
Goran Miletić, one of the organizers, told B92 that they had received an explanation from the MUP "which said absolutely nothing except to quote a legal article which stated that it had been appraised that security could be jeopardized during the gathering".
Serbian Patriarch Irinej had urged Prime Minister Ivica Dačić to ban the parade as well as an art exhibition by Swedish artist Elisabeth Ohlson Wallin, which depicted Jesus Christ dressed in women's clothing:
In a release submitted to Tanjug, the patriarch says the "tragicomic
parade of shame" casts a heavy moral shadow on Belgrade, on Serbia's
longstanding Christian culture and the dignity of the family, as the
basic unit of humanity.
Commenting on the exhibit, which has stirred a lot of debate in the public, the patriarch said it was "deeply insulting."
"I had not expected that this year I would again be forced to turn to
you on behalf of the Serbian Orthodox Church, its members, who are the
dominant majority in Serbia, and on behalf of numerous members of other
religions, with the plea and demand that, by your authority as prime
minister, you prevent the scandalous exhibit of photographs by Swedish
artist Elisabeth Ohlson Wallin," Irinej wrote.