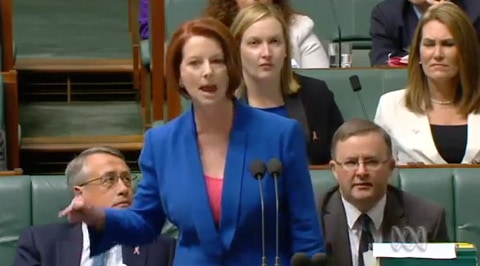 Here's your first political must-watch moment of the day.
Quite a scene in the Australian parliament today after opposition leader Tony Abbott made a motion to remove House Speaker Peter Slipper for allegedly sending text messages that contained crude comments about women.
Slipper later resigned on his own, but not before Prime Minister Julla Gillard's Labor Government voted to block Abbott's motion and Gillard rose to verbally rip Abbott's head off.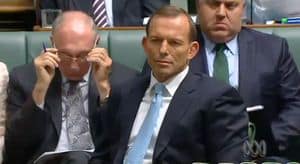 Businessweek reports:
"I will not be lectured about sexism and misogyny by this man," Gillard told parliament, pointing at Abbott. "The leader of the opposition says that people who hold sexist views and who are misogynist are not appropriate for high office. Well I hope the leader of the opposition has got a piece of paper and he is writing out his resignation."
Abbott, whose Liberal-National coalition is leading in polls before elections due next year, has faced claims from Labor ministers that he has a problem dealing with powerful women. He began a media blitz defending his credibility last week with the help of his wife Margie.
Gillard has been confronted by protesters bearing placards reading "Ditch the Witch" since becoming prime minister in June 2010, and has previously attacked sexism in Australian politics. Today, she accused Abbott of "repulsive double standards when it comes to misogyny" and said she'd been offended by "cat-calling" to her in the House of Representatives.
Watch, AFTER THE JUMP…