The hammer has come down on cyclist Lance Armstrong, the AP reports: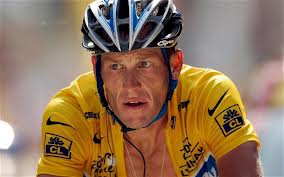 Cycling's governing body agreed Monday to strip Lance Armstrong of his seven Tour de France titles and ban him for life, following a report from the U.S. Anti-Doping Agency that accused him of leading a massive doping program on his teams.
UCI President Pat McQuaid announced that the federation accepted the USADA's report on Armstrong and would not appeal to the Court of Arbitration for Sport.
The decision clears the way for Tour de France organizers to officially remove Armstrong's name from the record books, erasing his consecutive victories from 1999-2005.
USADA said "Armstrong should be banned and stripped of his Tour titles for 'the most sophisticated, professionalized and successful doping program that sport has ever seen'…
USADA recommends that Armstrong's titles not be handed to other riders because of the massive amount of doping going on at the time they were won.
Armstrong spoke at  his Livestrong foundation's fundraising bike ride in Austin on Saturday in his first public appearing since the doping scandal began. He called it a "difficult few weeks."
Watch, AFTER THE JUMP…