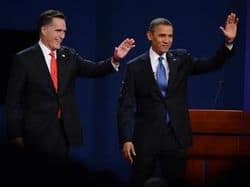 Mitt Romney continues to benefit from a post-debate "bounce," according to the latest Reuters/Ipsos poll.
Their numbers show that 47% of likely voters prefer Obama, while 45% are backing Romney. That is the third straight day Romney has been a mere two pointds behind President Obama.
Prior to the debate, Reuters put Romney about six points behind the president.
Campaigning in Florida today, Romney criticized Obama's post-debate "excuses" for his perfomance. "We had a little debate earlier this week, and I enjoyed myself," said the GOP White House hopeful. Now of course, days later, we're hearing his excuses, and next January,
we'll be watching him leave the White House for the last time."
President Obama, meanwhile, held a fundraiser in Los Angeles this weekend. According to the Washington Post, 6,000 tickets starting at $250 were sold for the event featuring performances by Katy Perry, Earth, Wind & Fire and Stevie Wonder.