The Joy of Disco!

Bond flirts with Javier Bardem's openly gay villain in Skyfall.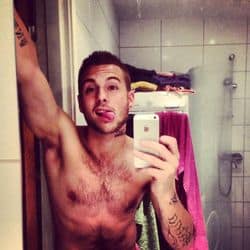 Out footballer Anton Hysen is working on something.

Jude Law's cremini mushroom gives good face.

Candy Crowley's role as moderator comes under scrutiny ahead of presidential town hall: "In a rare example of political unity, both the Romney and Obama campaigns have expressed concern to the Commission on Presidential Debates about how the moderator of this Tuesday's town hall has publicly described her role."

Would Tom Cruise choose Katie Holmes over David Miscavige?

Ken Mehlman writes op-ed in the Minneapolis Star-Tribune on the conservative case for same-sex marriage: "As Republicans, we respect the individual and work to empower people to live as they see fit, with as little intrusion by the government as practical. This idea is grounded in an important Judeo-Christian value that we should all treat others as we would like to be treated. Put yourself in your neighbor's shoes. How would you feel if, even though you paid the same taxes, potentially served in the same military and followed the same rules as your neighbor, your government denied you the freedom to marry the person you loved in ceremony?"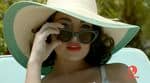 Barbara Walters to interview Lindsay Lohan. "Lindsay will portray Elizabeth Taylor in a made-for-TV biopic movie titled Liz & Dick that will air on Lifetime TV next month. In order to promote the film's release, Lindsay has agreed to sit down and chat with Barbara."

Scarlett Johansson goes all Cruella Deville.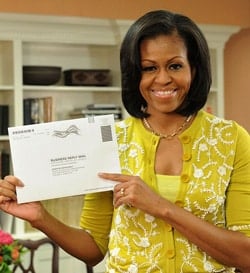 Michelle Obama voted early, by mail.

East Hampton teen's suicide tied to alleged bullying over the perception he was gay.

The measurement that would reveal the universe to be a computer simulation.

Shambala Times celebrates same-sex marriage.

Kirsten Gillibrand enters shortlist for presidential contenders in 2016: "She
set tongues wagging about her future at last month's Democratic
National Convention in Charlotte, N.C., with an address to delegates
from Iowa, an early proving ground in every presidential race."

Michelangelo Signorile on the rise of the "nones" and its relation to anti-gay churches. "According to the Pew study, one in five Americans now identify as having no religious affiliation, even as many of them state they believe in God or describe themselves as spiritual. The various denominations of Protestants together accounted for two out of three Americans in the 1960s, but now only total 48 percent. And the only reason Catholics, which account for 22 percent of Americans today, haven't diminished further, is because the wave of new immigrants to the country has replaced the many Catholics who've left the church in the past five years."

VIDEO: Barbra Streisand and gay son Jason Gould sing together for first time.

Male model fix: Kyle Wicks.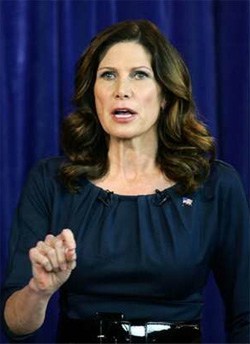 Mary Bono Mack debate turns into personal slugfest: "Both candidates artfully dodged questions. Asked for the second campaign debate in a row whether she supports same-sex marriage, Bono Mack stressed that she has a strong relationship with transgendered stepson Chaz Bono, 'doesn't have a bigoted bone in her body' and twice voted against proposed constitutional amendments to ban gay marriage — but she did not answer the question directly, saying the issue should be left up to the courts."

Paul Ryan told 24 lies in 40 minutes of speaking at the debate, which seems like a lowball number.

Garrett-Evangelical Theological Seminary senior leaves ordination process and United Methodist Church after being told to go back in the closet: In order for me to be ordained in the UMC, I would quintessentially have to go into a professional, vocational closet. In meetings and on paper, I would be "single," making no reference to my sexual identity or my relationship status. I would have to leave a part of me outside of the ordination process. I'd known others going through the same thing who seemed to be okay with it all, who seemed sane and mentally/emotionally healthy, and so I pressed forward. I continued in my seminary education, served another church in the city for my second-year internship, and proceeded to have my local church declare me as a candidate for ordination.