Apple pays tribute to Steve Jobs one year after his death.

GLAAD reports highest percentage of LGBT characters on television ever recorded.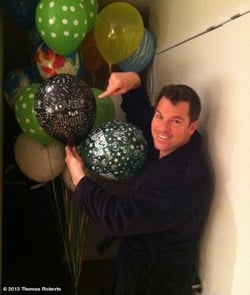 Happy 40th birthday to newlywed Thomas Roberts, who is now "over the hill" according to his husband Patrick. And, the NYT covers Thomas and Patrick's wedding.

Mariah Carey tells Barbara Walters that Nicki Minaj threatened to shoot her.

AFER fact-checks the NOM ads running now in battleground states.

Gay Mexican immigrant denied protection in U.S.:
"Efren Neri-Garcia has said he was mistreated in Mexico because he is
gay and was attacked by authorities while imprisoned in Guadalajara in
the 1990s. A witness told Colorado authorities gay men in Guadalajara
are still being attacked and need protection. The court of appeals
disagreed."

Gay Nigerian faces imminent deportation from UK: "Speaking from Colnbrook Immigration Removal Centre last night, Mr Ayelokun said: 'I feel terrible, traumatised. I am very afraid they are going to kill me in Nigeria.' The 34-year-old has been trying to remain in the UK since he overstayed a visiting visa in 2003. But a removal order was made by a judge at Bradford's Immigration Court, who refused to believe that Mr Ayelokun was homosexual despite the testimony of three lovers."

Trailer: Seth Rogen and Barbra Streisand go to a strip club in The Guilt Trip.

Glee's Dean Geyer, shirtless skateboarder.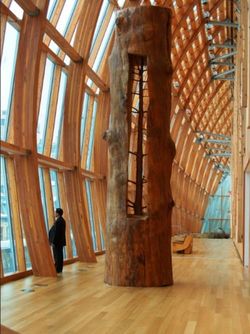 Sculptor removes the growth rings from trees to show what they looked like in their youth.

Darryl Hannah arrested in Keystone XL Pipeline protest in Texas: "Hannah and landowner Eleanor Fairchild were standing in front of heavy equipment in an attempt to halt construction of the Keystone XL pipeline on Fairchild's farm in Winnsboro, a town about 100 miles east of Dallas. They were arrested for criminal trespassing and taken to the Wood County Jail, Bassis said. Hannah also faces a charge of resisting arrest, according to jail records."

Chris Brown, sharing too much information.

Justin Timberlake recording secret album with Timbaland? "It's for Sony and will be released early next year. The project is being kept super tight, and will be produced quickly, perhaps as many as 'a dozen new tracks'."

'Dancing with the Stars' set receives suspicious mailing directed at Bristol Palin.

Loudoun County Board votes to investigate anti-gay wingnut Supervisor Eugene Delgaudio.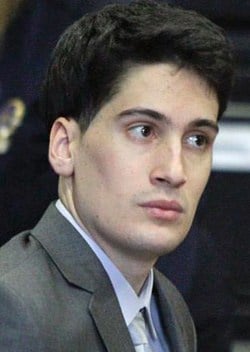 Male model who killed Portuguese writer Carlos Castro in NYC wore Castro's testicles on his wrists: "He put one on each wrist," said lawyer Rubin Sinins said. "He did this for his protection. He could also harness the power. He wandered the streets of Manhattan, touching people, because he had the power to cure people from AIDS, because he had the power to cure them."

Scientists create fertile eggs from mouse stem cells. "It's like cellular alchemy. I mean, they can turn lead into gold here. They can turn skin cells or blood cells into eggs."

Gay marriage opponents preparing yard sign assault: "The yellow-and-blue signs will read: 'Don't Redefine Marriage. Vote No on Question One. Marriage (equals) One Man + One Woman.'"

Zach Wahls launches petition asking UPS to drop its funding of the Boy Scouts of America: "When asked by a reporter at The American Independent if UPS will continue to donate now that Boy Scouts of America have reaffirmed their policy, UPS spokesperson Kristen Petrella said 'This decision has not and will not impact The UPS Foundation's decision to provide funding to BSA although we evaluate each funding request on an individual basis.'"