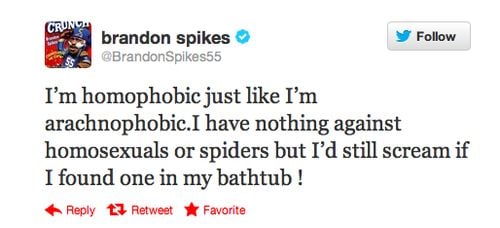 New England Patriots linebacker Brandon Spikes is receiving a barrage of feedback on Twitter for a Tweet he posted yesterday that he insists was "a joke."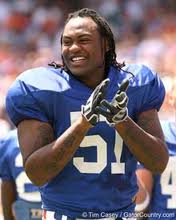 Said Spikes in the tweet:
I'm homophobic just like I'm arachnophobic.I have nothing against homosexuals or spiders but I'd still scream if I found one in my bathtub !
HuffPost reports:
Spikes then received a slew of criticism from those who said his comments were insensitive and served as a bad example for children who look up to him.
"Gay jokes, how clever…remember you are a rode model for kids around the world. October is also anti-bullying month," tweeted one user. "Your homophobic jokes make me as a New England Patriots fan for most of my life ashamed. I hope the Patriots suspend you," responded another. "Gotta hand it to @BrandonSpikes55 for crafting a tweet that makes him sound simultaneously like a tough guy homophobe AND a complete weenie," wrote another.
Watch a report from FOX25 Boston, AFTER THE JUMP…
Video may take a few seconds to load…