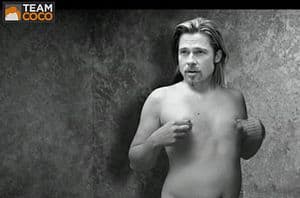 PHOTO OF THE DAY: Conan plays with Brad Pitt's Chanel ad.
BY SAM GREISMAN
A look back at today's top stories
ELECTION 2012
With the race tightening, especially in Ohio and other key swing states, Romney and Obama square off in the final Presidential Debate tonight. The subject tonight will be foreign policy, which is why the Obama camp released this ad today. Obama today gained one Republican supporter, in the form of Kelly Clarkson and the Romney campaign is hoping that his chances don't go the way of his blimp.
Todd "Legitimate Rape" Akin continues to show that he loves women. This time he compared opponent Claire McCaskill to a dog at a recent fundraiser.
**
WINGNUTTERY
Ever wondered what it's like inside a Mormon Temple? Well now you know. It's just as creepy as you thought.
A few stories about anti-gay rights wingnuts today. First a story out of New York, where a lesbian couple was not allowed to marry at the Liberty Ridge Farm because "it's a family place". In Vermont, the owners of an inn recorded a video against gay marriage in a state they don't even live in. Also anti-equality activists in Maryland are trying to suggest that Michelle Obama supports discrimination.
**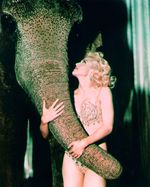 ENTERTAINMENT
Two female icons making news today. First an unfinished version of Cher's newest single "Woman's World" leaked today. Also, just a reminder, it's been 20 years since Madonna released "Sex".
**
VIDEOS OF THE DAY
ABC's What Would You Do? takes a look at shoppers' reactions to parents allowing their kids to buy "gender inapropriate" Halloween costumes. Not as many negative reactions as one might expect.
Also check out McFly's Harry Jude tied to a tree in his underwear!